KATIE elaine KRAUSE
vocals

Katie's been singing since she could basically make a sound. She's schooled in classical performance on piano and voice, but has always loved singing the 'songs of her father.'
She first sang with her dad, in weddings as well as church, round about age 10. She is a passionate, soulful voice that cares for people with deep, abiding sincerity. Katie is also a masterful crock pot chef, and truly enjoys candy.


---
ruthie emily mcquinn
vocals & fiddle

Ruthie followed in her big sister's footsteps, learning the 'songs,' and began violin in grade school orchestra, but soon began picking up the old timey tunes and styles she heard around the house.
She was blest to find a teacher in the wonderful Chris Wagoner, who taught and encouraged her in her efforts. Ruth's ear for harmonies and grooves, along with tune/song writing skills are essential.
She and sister Kate love singing in the old "brother-duet" style, (think Everly's, Louvin's, Monroe's, Delmore's...), but also can tear it up on Frank and Nancy Sinatra's version of "Something Stupid!"
Ruth is also a wonderful artist and activities coordinator....and also enjoys candy.

---
rick ernest krause
​VOCALS, GUITAR, BANJO & HARMONICA

Rick Is papa to the aforementioned (as well as little sis, Heidi Marilyn), and is married to the girls' wonderful mama, Karin, (his 'brown-eyed flower'). Rick's been at music, in some manner or another most all his life, (first band at age 7....possibly, the first all air or paper guitar Beatles cover band in 1965. Definitely, the pride of Lenexa Central Elementary School).
That same group aquired real guitars and such, a few years later, to form the garage/basement band, 'Ubiquitous' or sometimes known as 'You Pick With Us." Listened to everything from Bing Crosby to DeFord Bailey and Arthel 'Doc' Watson.
Rick was blest to always be around music. His mom was a wonderful pianist and singer of the American Songbook, from Gershwin to Bachrach/David. Mel Torme was played a lot around the house. Grandad was an old timey, Southern Missouri fiddle player, and passed on the love of roots music to the KFB. Rick also enjoys honey in his coffee.

---
Powered by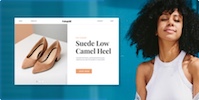 Create your own unique website with customizable templates.